Dan Holdsworth print – Mount St. Helens from Spirit Lake – Out Now
Dan Holdsworth, Mount St. Helens from Spirit Lake, 2012.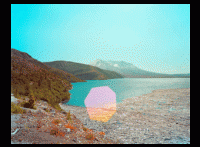 Marking the gallery's tenth birthday, BALTIC Centre for Contemporary Art today launches a new specially commissioned range of artist limited edition prints, BALTIC Editions. The donated works, all by artists who have previously exhibited at the gallery, will go on sale during the birthday year and proceeds from the sales will help support BALTIC's exhibition and education program. BALTIC Editions will be exclusively available from BALTIC Shop and will include works by the following artists: MARTIN BOYCE / GRAHAM DOLPHIN / ANTONY GORMLEY / DAN HOLDSWORTH / ANT MACARI / YOKO ONO / CORNELIA PARKER / ELIZABETH PRICE / MATT STOKES / MARK TITCHNER / MARK WALLINGER.
Image size 254 x 199mm,
Paper size: 446 x 391mm
Edition of 100
Signed and numbered by the artist.
Price: £ 175
You can order this limited edition Dan Holdsworth print at the Baltic here