20th Anniversary 'Blind Spot' – Burtynsky, VanDerBeek, Ethridge, Quinlan, et al
Happy 20th Anniversary 'Blind Spot' !!!
To celebrate, these artists  generously donated new limited edition prints:  Adam Bartos, Edward Burtynsky, Moyra Davey, Mitch Epstein, Roe Ethridge, Daniel Gordon, Bryan Graf, Janice Guy, Rachel Harrison, Whitney Hubbs, An-My Lê, Matthew Porter, Michael Queenland, Eileen Quinlan, Mariah Robertson, Roman Signer, Sara VanDerBeek, James Welling and Hannah Whitaker.
You can see and order all editions at Blind Spot
All are great but the Burtynsky ... WOW ...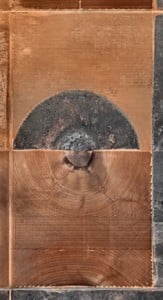 Edward Burtynsky, Pivot Irrigation #16, High Plains, Texas Panhandle, 2012
Medium: Digital chromogenic color print
Size: 20 x 24 inches
Edition of 10
Signed and numbered
Price: $3,500.00