Jeff Wall – Zimmer *SOLD*
Jeff Wall, Zimmer, 2014.  

SOLD OUT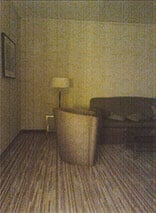 With Jeff Wall, Kunsthaus Bregenz in cooperation with the Stedelijk Museum in Amsterdam and the Louisiana Museum of Modern Art in Humlebæk is presenting one of the most innovative and at the same time classical artists of his generation. He has been involved in photography since the late 1960s and began presenting large-scale images as early as 1976, frequently in the form of transparencies in light boxes. Wall has never restricted his imagery to a particular scale or mode of presentation.
He describes his work as »cinematographic«; he makes use of some of the approaches normally identified with film-making for the creation of single photographs. He has often expressed his admiration for the way film-makers are able to combine different stylistic approaches in a single film, explore different levels of artifice and technical complexity, work with performers, and play with the documentary capacity of photography.
In his photographs he critically contests the traditional aesthetics of photography, whilst simultaneously developing impressive pictures or »tableaux« in which multilayered narratives are compressed. His subject matter ranges from contemporary social issues to the high artifice of imaginary worlds. He draws inspiration from painting, photography, literature, and film. Many of his images are based on events or situations the artist has experienced or observed, subsequently reconstructing them for the camera.
Wall adopted digital technology at an early point in its development. Since the beginning of the 1990s, he has used it to construct many of his images. The apparent unity and immediacy of the pictures is in fact the result of a complex assembly and editing of different shots. He uses this process not just for scenes of fantasy like The Flooded Grave—many of his pictures that at first appear to be snapshots may also be photomontages.
Since 1996 Jeff Wall has also embraced black and white photography, extending his investigation of the aesthetics of photography and creating references to classic street photography as well as film noir. The Bregenz exhibition begins with the large black and white photographs from the mid 1990s and concludes with works that are being presented to the wider public for the first time. The exhibition in Bregenz is the first comprehensive presentation of his work in Austria for more than ten years.
Medium: Inkjet print on Ilford Gold Fibre Silk, comes in a clothbound portfolio,
Paper Size: 48 x 55.9 cm,
Image Size: 24,2 x 33 cm,
Limited edition of 50 + 15 A.P.
Signed and numbered.
Price: €1,400  SOLD OUT

This limited edition Jeff Wall print is available at Kunsthaus Bregenz
Please note that, for this edition is still in production, no other images are available at this time.