New Editions by: Michael Craig-Martin / Marc Camille Chaimowicz / Kai Isaiah-Jamal
Michael Craig-Martin - Baseball Cap - 2019
Preeminent conceptual artist Michael Craig-Martin is renowned for analysing the dynamic between objects, images and language. Early in his career, Craig-Martin worked with sculpture and installation to address these concerns, creating works that knowingly referenced American minimalism. In the 1990s, around the time of his influential tenure as a tutor at Goldsmiths (where he is now Emeritus Professor of Fine Art), Craig-Martin shifted his attention to painting, developing his instantly recognisable style.
Created for the Institute of Contemporary Arts, Baseball Cap is drafted in Craig-Martin's trademark bold outlines which delineate vivid planes of flat, vibrant colour. Through this precise compositional technique and decisive layering of colour, Craig-Martin continues to navigate the tensions between object, representation and language.
Medium: Silkscreen
Size: 60 × 60cm
Edition of 20
Signed and numbered
Price: £ 2,000
Marc Camille Chaimowicz - Andy's in Town - 2019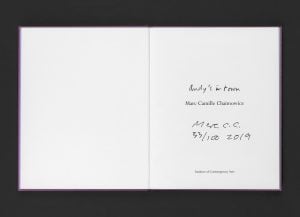 Andy's in Town is a limited-edition publication comprised of images taken by Chaimowicz in 1975 of Andy Warhol signing copies of his iconic text, The Philosophy of Andy Warhol (From A to B & Back Again). The images are accompanied by original texts contributed by Lucy Kumara Moore and Charles Asprey, alongside excerpts from A to B & Back Again. Andy's in Town captures an iconic moment in the cultural history of London, offering a poetic meditation on the nature of fandom, consumption, voyeurism and connection.
Andy's in Town is accompanied by a photographic edition of the same name that the artist produced for the ICA in 2018, available to purchase here. The images presented in the volume will also be used in a future exhibition to be produced by Chaimowicz in 2020.
Medium: Publication, 53 pp
Edition of 100 + 10 AP
Signed and numbered
Price: £ 150 (ICA Red Members: £ 112.50)
Kai Isaiah-Jamal - When we can't say 'gender' let's say 'gentrification'. The things I didn't tell my Mother before I left - 2018
Kai-Isaiah Jamal is a spoken word poet, performer, writer, model and trans visibility activist. For this edition, Jamal has explored access to language – specifically around how it is used to identify – and the way that queer voices are censored. The black-out poem revisits the artist's childhood – a time when he was plucking at words and hoping they made sense. During this period, Jamal would often say that 'London is gentrified, and I can't deal with it, so I'm moving to Leeds' when what he meant to say was 'I'm trans, and gender is unsafe, so I'm seeking a comforting home in Leeds.' The poem toys with the merging of these words to highlight the fear of explicitly speaking about queerness.
Jamal works alongside institutions and brands to bring a voice to the misrepresented or unrepresented QTIPOC. Working with Dazed, Vice, i-D, Stella McCartney, Tate, and with his own family collective BBZ, Jamal aims to prioritise the voice and safety of queer people of colour. His work disrupts cis-het normality and aims to diversify the literature sphere with young, working-class, queer, trans magic that he wishes he could have had access to growing up.
Medium: Silkscreen print
Size: 65 × 65 cm
Edition of 30
Signed and numbered
Price: £ 200
This limited editions are available at ICA London