New Texte zur Kunst Editions: Katharina Grosse – Nicole Eisenman *SOLD*
Nicole Eisenman - Monster Movie (2020)  

SOLD OUT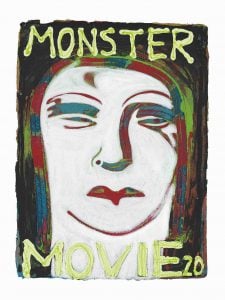 The figurative visual language of Nicole Eisenman's art is allegorically charged. Often – as most recently in her sculpture "Procession" at the Whitney Biennial 2019 – caricature-like allusions are made to social ills, especially under the Trump administration: placed on the terrace of the museum, several bronze and plaster figures, which understood themselves as typifications of American topoi and were commandingly robbed of their authority by Eisenman, went on trial here. Just as, for example, a blind general can be read as an emblem for irresponsible political leadership, a wounded eagle seems to be a symbolic attack on the heraldic bird and thus the ethical foundations of the United States.
Accordingly, the title of the edition "Monster Movie" can be taken quite literally: in Eisenman's Ditone print on paper, which was produced exclusively for "Texte zur Kunst," that which society rejects and represses appears as a mask-like face reminiscent of classic man-machine depictions, as those in Fritz Lang's "Metropolis" or in B movies, whereby outsiders are just as much in the center as the supernatural and occult. Originating, as it were, from the realm of monsters and mutants, the frayed edge of the paper not only points to the limits of humanity. Its haptics also crosses the boundaries between painting and object, making "Monster Movie" a hybrid artifact: a familiar stranger.
Medium: die-cut Ditone print,
Size: ca. 78 x 58 cm,
Edition: 100 + 20 A.P. + 2 P.P.,
Signed and numbered
Price: € 580  SOLD OUT
Katharina Grosse - Der Stuhl - 2020  
SOLD OUT
Katharina Grosse's current exhibition in Berlin at the Hamburger Bahnhof offers a fresh demonstration of the distinctive physicality of her paintings, which are also characterized by a lavish use of bold colors. Jettisoning traditional implements such as the brush and canvas, Grosse enlarges the painterly space by sweeping over objects in situ – be they mounds of soil, fabric panels, her own bed, now, the exterior façade of the Rieckhallen building – with her spray gun. The luminous colors exudes vitality, and there would seem to be a strongly performative aspect to the process of Grosse's painting. Yet the expansion of color onto sculptural and architectural elements does not so much erase the boundaries of objects as blur them. The synchronicity of painting, which harnesses the colorful imprint as a spatial impression, is a defining element also in Grosse's photographs.
Created especially for TEXTE ZUR KUNST, the work "Der Stuhl" (The Chair) shows the artist's studio, turning the fact that colors figure in Grosse's work as markers for spaces and objects into a motif in its own right. Traces of the painterly act come to the fore in an aesthetic inquiry into art's first beginnings. The instantaneousness of photography is reflected by the small format, making "Der Stuhl" (The Chair) a miniature of the day-to-day work in the studio: it promises insight into the creative process, though the latter ultimately remains opaque.
Medium: Ditone print
Image size: 6.4 x 14.6 cm
Paper size: 29.7 x 21 cm
Edition: 100 + 20 A.P. + 2 P.P.
Signed and numbered
Price: Sold out
These limited edition prints are available at Texte zur Kunst