Private Sales – Jeff Koons – Paddle Ball Game / Rudolf the red nosed Reindeer
Private Sales - Jeff Koons - Paddle Ball Game / Rudolf the red nosed Reindeer - 2000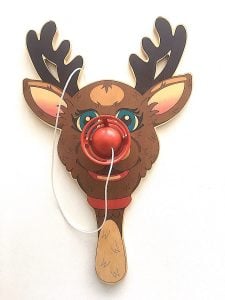 An awesome X-mas gift !!!
Medium: Thermoprint on birchwood, with painted metal and string
Size: 31.7 x 20.2 x 6.5 cm.
Limited edition of 100 numbered and signed copies, 900 copies unsigned and unnumbered.
This work is part of the 900 copies.
Price: € 1.500,-
This limited edition Jeff Koons work is available at New Art Editions
Condition: The work is in a excellent condition. No condition issues. The original box is discolored and has a tear.
Provenance: Published by Deutsche Guggenheim. Acquired from the publisher by the present owner.
Location of the work: Netherlands
Buyers premium: 0%
Buyer is responsible for the delivery of the work.
Duration of the sale:  December 5 - December 19, 2019.
About our Private Sales
We provide our New Art Edition members the opportunity to sell their artworks through newarteditions.com and so reach out to our extended audience of art lovers / collectors world wide.
Please note that we accept works with a minimum price of €1.500
Interested and also a work for sale? Just send us an email and we'll get back to you within 24 hrs. ARTKOONS