Thomas Ruff – 2 new V&A prints – 2018
To mark the opening of the V&A Photography Centre, the V&A has commissioned internationally renowned German photographer Thomas Ruff to create a new body of work. Known for taking a critical and conceptual approach to photography, Ruff's new series digitally reinterprets Linnaeus Tripe's 1850s paper negatives of India and Burma from the V&A's collection.
To celebrate this commission V&A releases two exclusive, limited edition prints of works from the series. This is a unique opportunity to own work by a present-day master, for Ruff is one of the most exciting names in fine art photography.
Thomas Ruff - Tripe_12 (Seeringham. Munduppum inside gateway) - 2018
Medium: Inkjet on Rag Photographique Paper, Presented in a portfolio with text by Thomas Ruff and Martin Barnes, Senior curator, Photographs, V&A
Paper size: 50 x 40 cm
Image size: 30 x 38.3 cm
Edition of 50 + 5 A.P.
Signed and numbered on the reverse
Price print: £ 1,000
Thomas Ruff - Tripe_08 (Pugahm Myo. Thapinyu Pagoda) -2018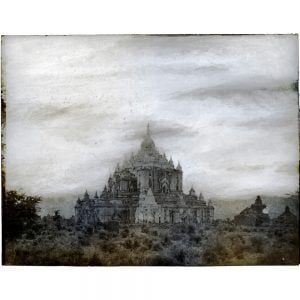 Medium: Inkjet on Rag Photographique Paper, Presented in a portfolio with text by Thomas Ruff and Martin Barnes, Senior curator, Photographs, V&A
Paper size: 50 x 40 cm
Image size: 30 x 38.3 cm
Edition of 50 + 5 A.P.
Signed and numbered on the reverse
Price print: £ 1,000
These limited edition Thomas Ruff prints are available at V&A Museum