Available at Eyestorm two humorous long sold out limited editions, Painting By Numbers (Blue & Red), by UK "love him or hate him" Damien Hirst.   SOLD OUT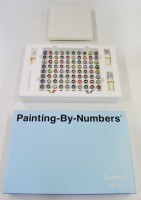 The idea behind these editions, is that each dot is painted with a different colour paint, much like the paint by numbers books we used to have as children, and the result: an original Damien Hirst spot painting, which currently sell for between £650,000 and £1.2m each.
Hirst will not have painted it himself obviously, but he doesn't paint his paintings himself either – he is of course known for his use of assistants - so this piece is not only a play on the popular children's colouring books, but an investigation about the authenticity of painting itself, especially the paintings he passes as his own, which has caused much controversy over the years.
Damien Hirst, Painting By Numbers (Red), 2001
Work Size: 215 x 110 cm (H x W)
Edition Size: 175
Canvas, 90 enamel paints, 90 brushes and cardboard packaging in bespoke John Jones Perspex display casing
Year of release: 2001
Price: SOLD OUT
Damien Hirst, Painting By Numbers (Blue), 2001
Work Size: 215 x 110 cm (H x W)
Edition Size: 175
Canvas, 90 enamel paints, 90 brushes and cardboard packaging in bespoke John Jones Perspex display casing
Year of release: 2001
Price: SOLD OUT
One of each edition is available at Eyestorm here