David Hockney – A Bigger Book
Announcing: David Hockney - A Bigger Book - Sumo Taschen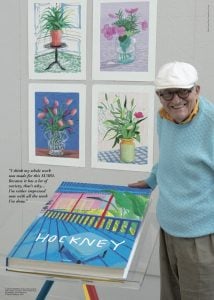 Coming Winter 2016, TASCHEN presents the decisive David Hockney monograph: A SUMO-sized career retrospective, curated and signed by the artist.
"I know the book is going to last 100 years, at least."
—David Hockney
Back in the late 1990s, as Helmut Newton and Benedikt Taschen were working on the legendary SUMO in Los Angeles, the idea arose to one day create a SUMO together with David Hockney. "How great would it be to have such a book in the same scope and detail in glorious color about Hockney, the greatest painter alive?" Benedikt thought. "Imagine someone did this back in the day, with one of the modern art masters like Picasso, Dalí, or Warhol. And since David lives next door in the Hollywood Hills, I must grab this historic chance!"
This dream has nally come true: a spectacular overview of more than 60 years of Hockney's incredible work. Each page unfurls in a blaze of blues, pinks, greens, and oranges, and we are spellbound both by the artist's vibrancy as a colorist and his extraordinary sense of the conditions of the world that surrounds us. In Hockney's restless interrogation of perception and representation, we see through the exquisite sparkle of a turquoise Los Angeles pool or witness the mellow sheen of light on a muddy Yorkshire puddle or stand beneath the rustic majesty of Bigger Trees near Warter. ese major paintings are joined by the artist's drawings, photo-composites, multi-perspective collages, stage designs, multi-camera video works, and iPad drawings, each a panoply of looking and showing in di erent styles and media.
It has taken Hockney and coeditor Hans Werner Holzwarth over a year to select and sequence the more than 450 works for this purely visual trip through the artist's oeuvre on 500 pages, building a dozen di erent book dummies, proo ng the colors in several rounds to make sure all images are meticulously printed. Presented on a bookstand designed by Marc Newson, A Bigger Book has become an artistic object itself, perfect for studying Hockney's art in every detail, in every stroke of the brush, and perfect for living with the works of one of the most popular and versatile painters of our time.
Collector's Edition - The David Hockney SUMO
Medium: illustrated 640-page chronology book, with an adjustable bookstand designed by Marc Newson
Size: 50 x 70 cm (19.6 x 27.5 in.), 498 pages, 13 fold-outs.
Collector's Edition: n° 1.001 - 10.000 /
Hand signed.
Price: € 2,500
This limited edition hand signed and numbered David Hockney book is available at Taschen HERE
Art Editions - The David Hockney SUMO  

SOLD OUT
Medium: Collector's Edition volume, 4 prints with an iPad drawing printed on archival paper,
Size print: 56 x 43 cm (22 x 17 in.)
Each in an edition of 250
numbered and signed by the artist,
Price: € 4'000 each  ALL 4 Series are SOLD OUT

Art Edition A: n° 1 – 250 / Collector's Edition volume + print on paper Untitled 329 from Hockney's 2010 ipad flower drawing series / € 4'000
Art Edition B: n° 251 - 500 / Collector's Edition volume + print on paper Untitled 346 from Hockney's 2010 ipad flower drawing series / € 4'000
Art Edition C: n° 501 - 750 / Collector's Edition volume + print on paper Untitled 468 from Hockney's 2010 ipad flower drawing series / € 4'000
Art Edition D: n° 751 - 1.000 / Collector's Edition volume + print on paper Untitled 516 from Hockney's 2010 ipad flower drawing series / € 4'000