Katharina Grosse 'Room Spray' and "Flag'
Katharina Grosse
Today 20 June 2014, Katharina Grosse will present her cooperation with LRRH_ and AtelierMallon. In the context of SOUVENIR by, the artist has taken this collaboration to the utter limits of perception, redefining the classical canvas. Katharina Grosse has realized a tapestry in the form of a flag. For the artist, the flag is more than just a symbol of a typical conquest of space. It is a moving indicator: a signpost of mystery, and at the same time simple and almost weightless. The raised flag leads inevitably from the material conquest of the spatial to that of the immaterial: the sensation of smell.
For this spatial concept, together with AtelierMallon, Grosse has created a souvenir, which opens up an unusual perspective: a room fragrance that makes the indiscernible – the nothing, which we experience as a room – discernible, perceiveable.
The PET-bottles used by the artist for storing her color mixtures are here employed like a
perfume flacon. Each one is unique, in that in each of them its visible and invisible contents merge. Flag and flacon, sight and smell, the physical work of art and its olfactory echo.
Katharina Grosse invites you to reflect on your own relationship to space, and to live it anew.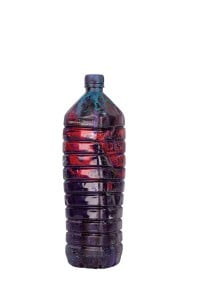 Medium: Room Spray in unique PET-Flacon composed by Atelier Mallon, vetiver, cardamom, cedar 100ml + 30ml
Edition 50+5 AP,
Signed and numbered
Price: €500  SOLD OUT
Medium: Digital printed silk tapestry flag on metal-wood rod
Size: 122cm x 208cm
Edition 10 + 2 AP
Price: € 6,400
Available at LRRH_