Loie Hollowell – Milk Fountain (2021) *SOLD*
Loie Hollowell - Milk Fountain (2021)  

SOLD OUT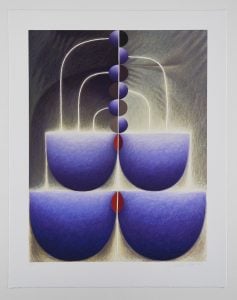 Ballroom Marfa is pleased to offer Milk Fountain, 2021 a limited edition print by Loie Hollowell. This work, in an edition of 30, continues Hollowell's exploration of bodily landscapes and sacred iconography, using geometric shapes to move a figure or its actions into abstraction. Originating in autobiography, her work explores themes of sexuality, often through allusions to the human form with an emphasis on women's bodies.
Loie Hollowell was part of After Effect, a group exhibition at Ballroom Marfa in 2016 that featured immersive artworks in painting, sculpture, installation and film and ranged from the cosmic and psychedelic to the sensual and visionary. The exhibition looked at historical paintings and film from the '30s and '40s alongside works from contemporary artists including Hollowell that addressed notions of the sublime, touching on mortality, landscape, the body, and various modes of abstraction.
Proceeds from the sales of this edition directly support Ballroom Marfa's exhibitions and programs.  20% of proceeds will also benefit the following organizations: West Texas Food Bank, Marfa Food Pantry, Marfa Nutrition Center, Fort Davis Food Bank and  Alpine Food Bank. Since the pandemic, food insecurity in this region has escalated astronomically.
Please email editions@ballroommarfa.org for more information on how to purchase.
Emails will be prioritized in order received.
Medium: Archival ink jet with screen print
Size: 28" × 21" (71.1 cm × 53.3 cm)
Edition of 30 + 5 AP
Signed and numbered
Price: $10,000
This limited edition Loie Hollowell print is available at Ballroom Marfa
Framing Recommendations:
Standard framing for Loie Hollowell's prints have been: maple frame with a white rub finish, 11/16" face x 1-13/16" depth hinged to a 4-ply ArtCare Pearl White with a 7/8" float all around. The front glass used is a 3mm Optium Museum Acrylic.