New editions by Jaar – Hirschhorn – Cornaro – Arrowsmith
Alfredo Jaar - A Logo For America - 1987/2016
Chilean-born artist, architect, and filmmaker Alfredo Jaar creates installations, photographs, films, and community-based projects that explore issues around humanitarian crises and the relationship between the First and Third Worlds. Probing the contemporary over-saturation of media images and the limitations of art in representing atrocities, Jaar draws attention to global power and exploitation. Perhaps his best-known work, This Is Not America (A Logo for America) (1987) consisted of a sequence of projections overlooking a U.S. army recruitment station in Times Square, including the outlined map of the U.S. with the words "This Is Not America" written across, and the word "America" superimposed over all the Americas—North, Central, and South. "There's this huge gap between reality and its possible representations. And that gap is impossible to close," Alfredo Jaar has said. "So as artists, we must try different strategies for representation."the neglected everyday environment can have such extraordinary complexity and beauty.
A Logo for America was re-presented in Piccadilly Circus during the South London Gallery's presentation of Under the Same Sun – Art in Latin America Today in July 2015.
Medium: Fujiflex print
Size: 50.8 x 62.8cm
Edition of 100
Price: £3,600
(SLG Fan Price £3,500)
Isabelle Cornaro - Edition for the South London Gallery - 2016
Isabelle Cornaro works with painting, sculpture, film and installation, to explore the influence of history and culture on our perception of reality. As a trained art historian specialising in 16th-century European Mannerism, her visual language draws on a wide array of references from the Baroque to modernist abstraction. In her work Cornaro uses found objects imbued with symbolic potential or emotional value, which she presents in different types of display and media to reveal the subtle shifts of meaning provoked by processes of reproduction and translation. This edition was produced to mark Cornaro's solo exhibition at the South London Gallery in 2015 which included a presentation of the film Figures, 2011.
Medium: Digital print on Hahnemühle photo raglan
Size: 27.9 x 41cm
Edition of 35
Price: £350
(SLG Fan Price £315)
Thomas Hirschhorn - Edition for the South London Gallery - 2016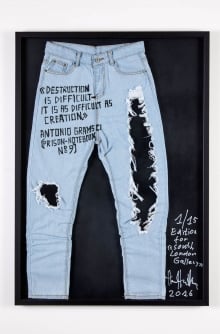 Having emerged as an artist in the 1990s, Thomas Hirschhorn is internationally regarded as being one of the most important artists of his generation. Using low-grade materials - cardboard, plastic sheeting, packing tape, aluminium foil - variously combined with newspaper and magazine cuttings, mannequins, furniture and a wide range of other miscellany, together with references to radical theorists such as Gilles Deleuze and George Bataille, he has established an expansive but distinctive visual language with which he creates extraordinary, provocative artworks imbued with political content. This edition was created to mark Hirschhorn's solo exhibition at the South London Gallery.
Medium: Mixed media
Size: 73 x103cm
Edition of 15, all unique
Launch price £5,600 framed
(SLG Fan Price £5,500)
Sue Arrowsmith - Vase - 2016  

SOLD OUT
Sue Arrowsmith photographs fields of abandoned scrubland. These images are projected and then meticulously recorded and traced in pencil, building a densely interweaving mass of lines that flicker and undulate across the pictorial plane. The artist works without colour, preferring the seductive sheen of graphite on paper, exploring the different tones and shades that can be achieved through this method. These large scale works can take many weeks to complete but by using a photographic template Arrowsmith ensures the drawing is loose and free. The compositions reveal the linear structure of the landscape, poised between intensely detailed abstract lines and shapes and the more recognizable forms of the common land. What appeals to the artist is how the neglected everyday environment can have such extraordinary complexity and beauty.
Medium: Handprinted porcelain vase produced with Meissen
Size: 13 x 13 x 12cm
Edition of 20, each unique
Price: £350  SOLD OUT
(SLG Fan Price £315)
All these limited editions are available at the South London Gallery