Plinth editions – Milhazes, Opie, Deacon, Parker, et al.
Plinth publishes unique products and limited editions by leading contemporary artists.
Plinth is dedicated to making contemporary art accessible to a wider audience. Their limited editions and artist-designed products are available to purchase online, and from 11th February 2016, at a pop-up gallery in 44 Great Russell St in London WC1 just opposite the British Museum. They have commissioned a new collection of limited editions by Cornelia Parker, Beatriz Milhazes, Richard Deacon, Richard Wilson and Ding Yi. These pieces have been created in collaboration with Birmingham's contemporary art gallery, Ikon, to celebrate their 50th anniversary and are now available to pre-order.
In addition to these new works, Plinth has curated a collection of beautiful, accessible pieces created by artists of note and reputation. Leading contemporary artists and designers have designed a range of works ranging from mugs and plates by Gavin Turk, to pure wool Sheep blankets by Julian Opie and vibrantly patterned umbrellas by Duro Olowu. Plinth gives the public an opportunity to build a collection of iconic and affordable pieces with the provenance and personality of the artists they love, with unique products starting at £10 and going up to £20,000 for collectable limited editions. Plinth weds luxury with accessibility.
Richard Deacon, 'Icon', 2015  (Plinth Ikon 50 Edition)
"Cast in concrete it becomes both statuesque, and wonderfully reminiscent of the richness of cast concrete on brutalist architecture" - Richard Deacon
Medium: Hand-cast concrete
Size: 292 x 217 x 37mm
Weight: 1.94kg
Limited edition of 50
Each edition is individually numbered and supplied with certificate of authenticity signed by the artist.
Price: £2,800
Beatriz Milhazes, 'Love and Peace', 2015   (Plinth Ikon 50 Edition)
"'Love and Peace" was developed starting from a detail of 'Peace and Love', a 1995-96 painting. This design-plate carries the memory of this painting, his strength, poetry, and also my respect and affection for the Ikon Gallery!" - Beatriz Milhazes
Medium: Ceramic
Size: 42 cm / 16,54 inches diameter
Weight: 2.1 kg
Limited edition of 100.
Each edition is numbered and supplied with a certificate of authenticity.
Price: £450
Richard Wilson, 'Still Life Jug', 2015   (Plinth Ikon 50 Edition)
A still life is a work of art that predominantly depicts inanimate subject matter, typically commonplace objects which may be either natural or man-made, and in my case, a household jug. However, this jug sculpture contains a narrative, which involves an unknown time duration, through a shift in its position" - Richard Wilson
Medium: Handmade ceramic
Size: 40 x 59 x 28 cm
Weight: 5.5 kg
Limited edition of 50.
Each edition is individually numbered and signed by the artist.
Price: £3,000
Ding Yi,

Appearance of Crosses 2015-11  

(Plinth Ikon 50 Edition)
"This new limited edition for Ikon is created from one of my new works, Appearance of Crosses 2015-11. The carved grids destroy and remove paint on basswood, revealing layers of colour or even the wooden base below. Throughout the creative process, buoyed up by my sense of enthusiasm, I have kept a very intense relationship with the painting in order to create an embryonic energy in the work. In this way it is an exploration without a hypothesis" - Ding Yi, 2015
Medium: Silk charmeuse scarf with hand-rolled edges
Size: 140 cm x 140 cm
Limited edition of 500.
Published in collaboration with The Scarf Gallery.
Each edition is complete with printed signature of the artist.
Price: £250
Cornelia Parker, 'STOP', 2015  

(Plinth Ikon 50 Edition)
"This sign is based on a photograph I took of a battered parking notice on a 60's council estate in N1. The signs are ubiquitous in London, displayed on all the estates of the period. Isolated from its context the instruction can refer to anything you want it to. Stop eating, Stop drinking, Stop smoking, Stop thinking, Stop worrying, Stop" - Cornelia Parker, 2015
Medium: Embossed enamel sign with hand-painted white lettering
Size: 487 x 248 x 8mm
Weight: 0.9kg
Limited edition of 50.
Each edition is individually numbered and supplied with certificate of authenticity signed by the artist.
Price: £1,000
Julian Opie, Sheep, 2014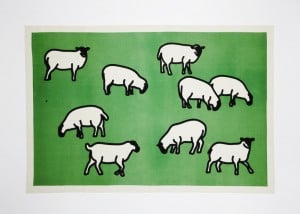 "I grew up with English art of the post-war St. Ives School, artists such as Nicholson, Moore and Hepworth. I find myself drawn to a lot of the same subject matter. As with lyrics, it's important to choose the right subject matter but they should not be seen as the point of the song, they allow a certain narrative and create a particular mood. The St. Ives mood is plain, modest and innocent, often lovely and occasionally cloying. I find myself contrasting this longing, wide-eyed, cool and natural quality with elements of our urban, post-industrial, somewhat ruined world" - Julian Opie
Medium: Pure wool blanket
Size: 190 x 132 cm
Weight: 1.5 kg
Price: £450
All editions are available at Plinth