Private Sales – Allen Jones – Dancing Couple *SOLD*
Private Sales - Allen Jones - Dancing Couple - 2014  

SOLD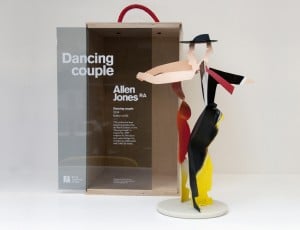 Medium: 1 mm etched brass, hand painted in acrylic, corian base.
Size: 44.2cm x 28.8cm x 24cm  -  17.3" x 11.3" x 9.4"
Edition of 50.
Signed and numbered on a certificate
Comes in its original wooden/perspex display box.
Price: €5.900
 SOLD
You can order this Allen Jones limited edition sculpture at New Art Editions
Condition: Mint. No condition issues.
Provenance: Published by Royal Academy. Acquired from the publisher by the present owner.
Location of the edition: UK
Buyers premium: 0%
Buyer is responsible for the delivery of the work.
Duration of the sale:  8 February 12:00 CET  -  22 February 12:00 CET, 2018
About our Private Sales
We provide our New Art Edition members the opportunity to sell their artworks through newarteditions.com and so reach out to our extended audience of art lovers / collectors world wide.
Please note that we accept works with a minimum price of €1.500
Interested and also a work for sale? Just send us an email and we'll get back to you within 24 hrs.