Private Sales - Takashi Murakami X Complexcon – Mr Dob (Set of 2) - 2016   

SOLD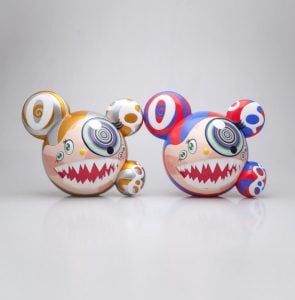 To celebrate the Complexcon 2016 event in Long Beach, CA, Takashi Murakami teamed up with Bait and Bait's long term partner Switch on one of the famous character from Takashi' artwork - Mr Dob. The vinyl figures were made by Switch Collectibles and the printing by hand individually. The original color edition red/blue is limited to 750 and the gold edition is limited to only 250. These figures were available for pre-order at Complexcon in the first day and Bait's online store. They sold out immediately.
Mr Dob, the whimsical, sharp-toothed character is Murakami's first signature creation inspired by the anime (animated film) and manga (comic book) characters that have achieved cult status in Japanese youth culture. His name is a contraction of the Japanese slang expression "dobojite," or "why?" and it is literally spelled out in his facial features and appendages, ensuring we recognize him in spite of his ever-changing appearance.
Medium: Vinyl, individually hand printed. In the original boxes.
Size: 23,5 cm tall and 27,5 cm wide,
Weight approx 5 kg each
Limited edition of 750 (red/blue)
Limited edition of 250 (gold)
Unsigned unnumbered
Price: € 4,200  SOLD 
This limited edition Takashi Murakami set is available at New Art Editions
Condition: This work is in a mint condition. No condition issues. The presentation boxes have very some light scuffs.
Provenance: Acquired directly from the publisher by the present owner.
Location of the work: The Netherlands
Buyers premium: 0%
Buyer is responsible for the delivery of the work.
Duration of the sale:  March 28th  - April 11th, 2019.
About our Private Sales
We provide our New Art Edition members the opportunity to sell their artworks through newarteditions.com and so reach out to our extended audience of art lovers / collectors world wide.
Please note that we accept works with a minimum price of € 1.500
Interested and also a work for sale? Just send us an email and we'll get back to you within 24 hrs.