Camille Henrot edition for Chisenhale Gallery
Camille Henrot - Untitled - 2016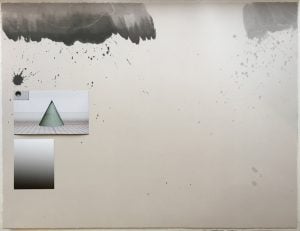 The 'Archive Editions' series celebrates artists who have participated in Chisenhale Gallery's historic 33-year programme. Archive Editions are specially produced limited edition artworks generously donated by the artists.
All proceeds contribute to Chisenhale Gallery's future artistic programme. In 2011, Wolfgang Tillmans produced the inaugural Archive Edition, followed by Rachel Whiteread, Hilary Lloyd, Mark Leckey and Jordan Wolfson. Camille Henrot's new work, Untitled (2016), commemorates her 2014 Chisenhale Gallery commission and first solo exhibition in the UK, The Pale Fox.
For Henrot, the construction of knowledge is as much a haptic and sensual experience as it is a cerebral one – we make sense of the world through interacting with the objects that surround us. Indicating the breadth of her practice, The Pale Fox comprised an architectural display system, found objects, drawing, bronze and ceramic sculpture and digital images. Together, these items represented multiple chronologies and scales, from the history of the universe to the universe of the artist's studio, creating an environment that was at once chaotic and meditative, defined by order and disorder. The Pale Fox remains one of Henrot's most critically acclaimed exhibitions to date.
Henrot's new 'Archive Edition' for Chisenhale Gallery builds on her interest in disordered states, examining the cyclical relationship of construction, destruction and reconstruction. Untitled forms part of a series of works that Henrot made using water damaged paper stock affected by floods that hit her New York studio in 2014. The work documents Henrot's attempts to counteract the flood damage with the use of ink and elements rendered through Photoshop effects, creating a layered and disconnected landscape of images. Untitled juxtaposes lithography and digital printing processes in an attempt to restore and reconstruct. Through this act of rehabilitation, she questions her lack of faith in technology's remedial power. For Henrot, the utopian ideal of modern technology stands in contrast to its curative potential, especially when tasked with counterbalancing humanity's environmental impact.
Medium: Lithograph and digitally printed collaged elements on Somerset Satin White 300gsm
Size: 54.6 x 42cm
Edition of 45 + 5 AP
Signed and numbered
Standard price: £ 625
Chisenhale Friends' price: £ 562,50
This Camille Henrot edition is available at Chisenhale Gallery