David Bowie Collector's edition – David Bowie is *SOLD*
David Bowie Collector's edition, David Bowie is, 2013.  

SOLD OUT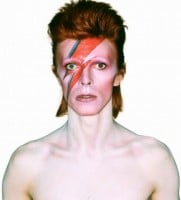 This is the only authorised book by the David Bowie Archive and the first to give access to his performance costume, ephemera and original artwork by the artist. All brought together to present a completely new perspective on his creative work and collaborations. The book traces his career from its beginnings in London, through the breakthroughs of 'Space Oddity' and 'Ziggy Stardust and the Spiders from Mars', and on to his impact on the larger international tradition of twentieth-century avant-garde art. The Collector's Special Edition will be clothbound and feature a lithographic print signed by David Bowie himself and bound into the book. Each edition will be numbered, cased in Perspex and handfinished. Only 500 copies will be printed.
Priced at £395, DAVID BOWIE IS Collector's Special Edition will be published on 23rd March 2013.*  SOLD OUT
The V&A will have 300 copies available to pre order online from January 2013.** If you would like to register your interest early, please enter your details here and the V&A will contact you when the Collector's Edition becomes available to pre order to take your payment details.
The balance of stock will be released in-store and online in March 2013 as part of the launch of the exclusive product range to accompany the David Bowie is exhibition. As the Collectors Edition develops further details will be posted here. If you have any questions please call Customer Service on 020 7942 2696 who will be happy to help.
Find further information on the David Bowie is exhibition at the V&A from 23 March – 28 July 2013 here
**Please note due to anticipated interest levels V&A will honour pre-orders on a first come first served basis, in terms of those who register their interest earliest. A maximum of two copies per customer can be pre ordered. If you wish to order more than one copy please call Customer Service on 020 7942 2696. You will not be able to request specific edition numbers online or in-store. By registering your interest you are not tied to a purchase until V&A contact you to take payment details.