Gabriel Orozco print – Boulder Whale
Gabriel Orozco, Boulder Whale (Findling-Wal), 2012.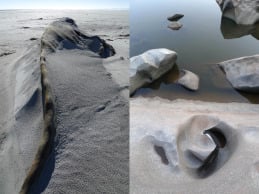 Gabriel Orozco's Asterisms, the eighteenth project in Deutsche Guggenheim's series of commissions, is a two-part sculptural and photographic installation comprising thousands of items of detritus the artist has gathered at two sites — a playing field near his home in New York and a protected coastal biosphere in Baja california Sur, Mexico, that is also the repository for flows of industrial and commer- cial waste from across the Pacific Ocean. The Gabriel Orozco exhibition runs from July 6 - October 21, 2012.
This exhibition is accompanied by Edition No. 60,
Medium: pigment print on photo lustre paper (260 gm)
Size: 6 x 8 inches
Edition size: 50 + 15 A.P.
Price: € 1.400    ( € 1.200  Club-Members )
This great limited edition Gabriel Orozco print is now available in the Deutsche Guggenheim SHOP here