Gary Hume print – Migration – Out Now
Gary Hume, Migration, 2013.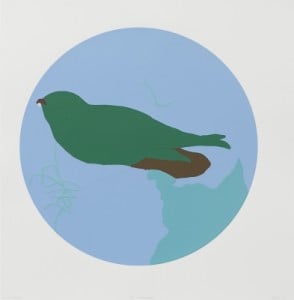 Gary Hume often turns to birds for subject matter, sometimes to imply the indifference and beauty of nature, yet often he will personify a bird to suggest a range of human feelings and ideas. In Migration, the cool blues and greens combine with the circular shape to suggest a high-altitude view of the world, with the bird a looming presence who seems to watch over the continents below. The bird dominates the composition as if we view him through a small window or at the end of a telescope. With a green body that lends a sense of calm and harmony to the composition, the bird takes on a presence that is at once intimate and god-like.
Silkscreen print on paper with hand embossing (to be confirmed)
Size: 31 5/16 x 30 5/8 in. (79.5 x 77.8 cm)
Edition of 90
Signed and numbered
Price: £2,160
This limited edition Gary Hume print is available at White Cube here