George Condo – The Insane Clown *SOLD*
George Condo - The Insane Clown - 2019  

SOLD OUT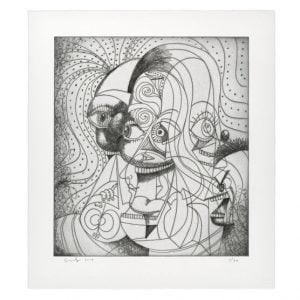 Renowned American artist George Condo has generously produced a limited edition etching especially for Tate.
As the title, The Insane Clown, suggests, this is a portrait but not in a traditional sense. Condo, who is known for his twisted tributes to art historical traditions, has layered multiple faces from different perspectives, imitating a cubist aesthetic. Condo adopts a common motif of Pop art through the inclusion of a cartoon face, whilst the disembodied facial features recall the language of Surrealism.
The portrait covers an assortment of facial expressions, including a goofy grin, bulging eyes and a comical grimace. Condo describes his portraits as composites of various emotional states, with the aim of representing the human consciousness in one image. He combines the figurative (of the body) with abstraction (of the mind) to create his unique and original brand of figurative abstraction.
Condo, who has recently returned to print-making, has used etching with dry point to create this edition. The medium of etching suits the style of figurative abstraction whilst also showcasing his accomplished draftmanship. The edition of 30 was printed by Greg Burnet of Burnet Editions, New York, is signed and numbered by the artist and comes unframed.
Medium: Etching with drypoint on paper
Size: 57.2 x 50.8 cm
Edition of 30
Signed and numbered
Price: £ 16,800
This limited edition George Condo print is available at Tate