Jonas Mekas print portfolio – Holy Fools
Jonas Mekas, Holy Fools 2012.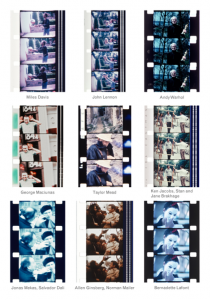 A film-maker, artist and poet, Jonas Mekas is one of the leading figures of avant-garde and independent cinema of the 20th century. His exhibition Jonas Mekas opening at the Serpentine on December 5, will present works from throughout his remarkable and prolific sixty-year career. This especially commissioned Portfolio comprises nine images, each depicting friends of the artist performing for each other or the camera. Derived from the original 16mm film stock, this Portfolio captures Mekas's constant and playful chronicling of the world around him over the course of his career. Artists, musicians and dancers (including Miles Davis, John Lennon, Salvador Dali and Andy Warhol) are captured in unguarded and personal moments.
Medium: Digital pigment print on 285gsm Hahnemuehle on FineArt pearl paper
Each Print: 35.5 x 27.9 cm
Set of 9 Prints
Edition: 50,
signed and numbered
Price: £995 excl. VAT for the set of 9 prints
(Note: individual prints available for £125 excl. VAT on request)
This limited edition Jonas Mekas print portfolio is available at Serpentine Gallery