Louis Vuitton – Artycapucines Collection
Louis Vuitton - Artycapucines Collection - 2019
First launched in 2013 and named after Rue des Capucines, the Parisian street on which Louis Vuitton opened his first store in 1854, the Capucines bag has quickly become a contemporary classic.
With the limited-edition Artycapucines Collection, the bag's distinctive design and silhouette provides and ideal "blanck canvas" for six leading international artists: Sam Falls, Urs Fischer, Nicholas Hlobo, Alex Israel, Tschabalala Self, and Jonas Wood.
Each model of the ArtyCapucines collection will be distributed in a limited and numbered edition of 300 pieces from 25 June 2019 at a price of € 6,500
For order information  please visit Louis Vuitton
Louis Vuitton - Artycapucines - Jonas Wood
Jonas Wood's limited edition ARTYCAPUCINES, is inspired by his paintings. The pattern is first printed onto the bag's exterior, before being embroidered with over 200,000 stitches to create a rich tactile texture. The matt pink LV logo and playful giraffe charm perfectly set off the Capucines PM's predominantly black, grey and white body.
Louis Vuitton - Artycapucines - Urs Fischer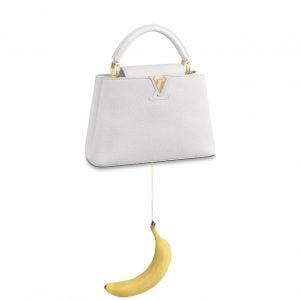 Urs Fischer's limited edition ARTYCAPUCINES transforms a white Taurillon Capucines BB into a hanging sculpture with the addition of six hyper-realistic, hand-painted silicone pieces of fruit and vegetables. The pieces adorn either the bottom or the side of the bag by way of a super thin and delicate gold-plated brass chain.
Louis Vuitton - Artycapucines - Nicholas Hlobo
Nicholas Hlobo's limited edition ARTYCAPUCINES echoes Louis Vuitton's Monogram canvas through a flower growing organically from the Capucines PM's interior. Meticulously attached with hand-laced embroidery, the blue tones and contrasting texture stand out against the bag's smooth black exterior to create a beautiful, handmade hybrid object.
Louis Vuitton - Artycapucines - Alex Israel
The iconic California wave is displayed on vividly coloured leather for the Alex Israel ARTYCAPUCINES PM handbag. Continuing the theme, two surfboard fins emerge from the top of the bag, cleverly concealing a mirror and a comb. A metal zip pull attached to an interior pocket of the Capucines PM showcases the artist's profile for a discreetly signed finish.
Louis Vuitton - Artycapucines - Sam Falls
Featuring refined handle rings and the LV Initials in gleaming mother-of-pearl, the Sam Falls ARTYCAPUCINES PM handbag is a limited edition design. One of the artist's original works has been replicated in intricate detail and displayed across the Capucines PM. Elaborate processes, including high-definition printing, hand-stitched embroidery and the jacquard weave technique have been employed in the craftsmanship of this piece.
Louis Vuitton - Artycapucines - Tschabalala Self
An intricate patchwork of fine leathers forms the Tschabalala Self ARTYCAPUCINES PM handbag. This limited edition piece is fashioned from 19 types of skin, including bright flashes of exotic lizard leather. Crafted from 200 hand-cut and painted shapes, each Capucines PM bag by the artist is truly individual. The reinvention of the iconic Louis Vuitton Monogram print evokes a deconstructed aesthetic.