New Texte zur Kunst Editions – Sept 2015 *SOLD*
Klara Lidén, Untitled (gute Laune), 2015

 SOLD OUT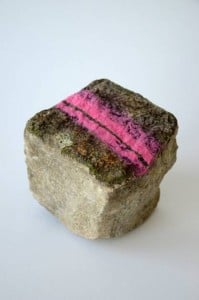 Trained first as an architect then as an artist, the New York/Berlin-based Klara Lidén is hyper-tuned to the body/building ratios of the places she inhabits, seeing, for example, the total potential of disused urban lots as clearly as the bureaucratic violence of planned "green" space. This awareness is manifested in her work not least by the elements that her various installations, sculptures, and videos tend to hold in common: the surrounding area, a human presence, immediately available materials, and bodily force.
For this issue of Texte zur Kunst, Lidén has produced "Untitled (gute Laune)," which takes old GDR pavers as material support, their tops bearing the accumulation of scum and wear. In making the piece, Lidén spray-painted the stones in one go with a neon-pink stripe, as a construction crew might to mark the underlying infrastructure of a road before tearing it up. Once dispersed, the pavers remain materially linked by this shared line.
But Lidén's art might best be thought of as real world objects hiding out – détourned "useful" things that could easily change back. In this case, a rock is ultimately rock, as helpful for reinforcing the ground underfoot as it is, held in hand, for asserting resistance. With this edition, it could be said that the street itself is redistributed, parceled out for aesthetic contemplation. And yet should a reason come about, the potential remains for further re-use.
Medium: Spray paint on cobblestone,
Size: 10 x 10 x 10 cm
Edition of 100 + 20 A.P.
Numbered and signed on the bottom
Price: € 350  SOLD OUT

Josephine Pryde, I for one, 2015  

SOLD OUT
A photograph by Josephine Pryde is never simply pictorial. Rather, the Berlin-based British artist accesses the full material and discursive range of what we might take to be "photography" in her practice. And so an image's placement along that spectrum – whether in the idiom of studio portraiture or medical imaging, an analog photogram or Giclée digital print – always bears significance too.
In "I for one," Pryde's edition for the "Photography" issue of Texte zur Kunst, Paris is offered up, appearing as a stand-in for the golden age of I: modernity, which is here clutched in hand as an Eiffel Tower souvenir. In the work, twin iPhones appear, one encased in a bejeweled cover inlaid with the famed tour. "This pure sign, almost empty," Barthes said of the structure – porous but a point of observation and transmission, its beholders up/downgraded to technicians. Presumably, it is a woman who serves as operator in Pryde's photograph. Nails varnished in junior exec red, she transmits less the ecstasy than the luxury and the agony of communication.
This work – its background enhanced in post-production with a golden fill (for creative flourish) – has been printed on a high metallic gloss paper. Enclosing this is a black border, hand-drawn to approximate the frame of an iPad screen. Pryde's image, however, is larger than a tablet and does not rotate. Rather, it is to be hung on a wall in a fixed position, possibly behind glass. As the savvy collector might say of this work: I, for one, would take it as a symbol of the always already-passé, a recognition of photography's claim to the that-has-been.
Medium: Inkjet print on Tecco Iridium Silver Gloss ISG250,
Size: 43 x 31.5 cm
Edition of 100 + 20 A.P.
Numbered and signed on the back
Price: € 350

Thomas Struth, Storage (Charité - Berlin 2015), 2015  

SOLD OUT



To the art historian's eye, the motif of Thomas Struth's edition for Texte zur Kunst is not unfamiliar: a cramped, low-ceilinged room crammed with tables on which empty glass vessels coated in a fine layer of gray dust are stacked, a spare wooden chair, a small stove or cupboard in the background – every element evocative of the traditional image of an artist's studio. But these tubes and containers were in fact used to preserve tissue samples; the room pictured, a storage room in the basement of a Charité hospital building in central Berlin. Today, the structure, which dates from the turn of the century, accommodates the Berlin Museum of Medical History.
In exploring the Charité – the institution makes several appearances in his work – Struth was especially interested in the hospital as a site of scientific and technological innovation; a place where the future is being made. Another photograph, taken in 2012, shows a surgical robot in operation. In the present image, by contrast, Struth adopts the opposite perspective, training his lens not on cutting-edge medicine but on the things it has carelessly decommissioned. What is stored away in this room is doubly obsolete in a technical sense. Yet such neglect brings out its peculiar value: the value of the forgotten object, which the artist renders in a meticulously composed tableau – the caustic acuity of the camera's gaze cancels any suggestion of mythologization. What thus becomes apparent in Struth's edition is an impulse to momentarily halt in light of rapid progress and to contemplate its scenes; the need to draw a frame around the "innovations" of the past as well as the present, so as to lend them the crystalline clarity of an uncannily familiar composition.
Medium: Inkjet Print,
Size: 31.9 x 40.5 cm
Edition: 80 + 20 A.P.
Numbered and signed on the back
Price: € 690
All editions are available at Texte zur Kunst