Phyllida Barlow – Pointer
Phyllida Barlow - Pointer - 2020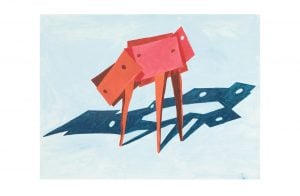 Studio Voltaire is pleased to launch an exclusive new print edition by Phyllida Barlow CBE RA.
This special fundraising edition will support a major forthcoming commission by Barlow as part of Studio Voltaire elsewhere. Picturing an anomalous, vibrantly coloured structure, the edition is based on a drawing produced just prior to Barlow's major solo exhibition cul–de–sac at the Royal Academy in 2019.
Barlow often describes sculptures as "dumb and silent and still" – even a nuisance, as a viewer must walk all the way around it.  The same could be said for a street barrier, which Barlow frequently references in her sculptural installations and works on paper.
pointer shows a marked change in the barrier, now on tall stilts and surrounded by its shadow. One can see the comparison to several sculptures in cul–de–sac, such as 'untitled:blocksonstilts;2018-2019' which featured three enormous white blocks, precariously perched atop wooden stilts, as if caught there after a high tide.  Similarly, the lintel in 'untitled:lintel;2018-2019' has a dramatic shadow, rendered in cement. As in this new edition, Barlow has given form to the elusive shadow, with a composition and permanence all its own.
Medium: 16 colour silkscreen
Size: 42 cm x 56 cm (unframed)
Edition of 80
Signed and numbered
Price: £ 550   (The price of the edition increases as the edition sells out)

This limited edition Phyllida Barlow print is available at House of Voltaire
This edition is currently available to pre-order and will be ready within 6 weeks.