Grayson Perry – Rainbow Sickness
Support the Royal Academy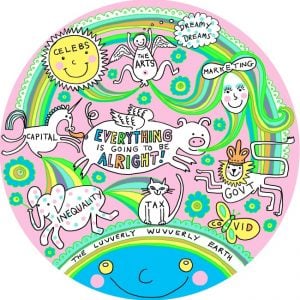 Across the UK, the homespun image of the painted rainbow has come to symbolise hope as people, communities and major institutions such as the RA face an uncertain future. To capture this time in our lives, Grayson Perry RA has designed a plate that features his characteristic caustic wit and social commentary. It is called Rainbow Sickness.
Royal Academy will acknowledge the first 500 donations of £1,000 or over with a Rainbow Sickness plate, designed by Grayson Perry exclusively for the RA to say thank you.
If you are able to be more generous, then they will acknowledge this with more plates. There are 500 plates, but they will endeavor to offer more plates as the donation increases by each thousand pounds. For example, a donation of £5,000 will enable them allocating five plates to you, as a thank you for exceptional generosity.
You can find all details at the Royal Academy